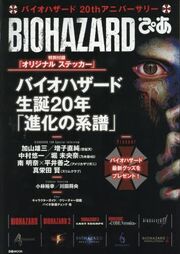 Biohazard Pia is a mook released in 2016 by Pia Book to commemorate the series' 20th anniversary.[1] The book contains one promotional image from the Resident Evil 2 prototype as well as an interview with Hiroyuki Kobayashi.
PRODUCER SIDE: 20th Special Interview: Hiroyuki Kobayashi
Edit
This interview spans 3 pages and covers Kobayashi's involvement between Resident Evil and Resident Evil 6. In one question, he's asked about the development of 2.
(p.88)
―How did development on "Biohazard 2" begin?

Kobayashi: We had started in the planning stage, trying to figure out what kind of game we wanted to make. We were already working on 2 by the time development on 1 had finished. Back then, Claire was instead named "Elza", but that was changed in the middle of development. During the development of that same build, the product had been deemed "too boring", so it ended up being remade. Once my work as Planner on "Dino Crisis" came to an end, I helped the Bio team work on "Biohazard 3 Last Escape", which was also a completely different game originally.
(p.88)
―「バイオハザード2」の開発はどのように始まったのですか?

小林 まだどんなゲームにするのかという企画の段階でしたが、『1』の開発が終わった時点で、すでに『2』の開発は始まっていたんです。当時クレアは「エルザ」という名前で、途中で変わったんですよ。さらに『2』は、1度途中まで作って「これではおもしろくない」と作り直しもしているんです。私がプランナーを務めた『ディノクライシス』の開発が終わってから、バイオチームにヘルプで加わった『バイオハザード3 LAST ESCAPE』も元は違うゲームでした。
References
↑ Piabook.com, Biohazard Pia page (retrieved 2 October 2017).